A well-maintained plumbing system is essential for a comfortable and safe home – our Plumber Luton is here to help!
Expert Plumbing Services in Luton: Trust Our Skilled Luton Plumbers
If you have a plumbing issue and need quality plumbing services, AB Handyman service is the local plumbing company in Luton that you should contact. Our skilled plumbers are experienced, friendly and professional, and ready to help you with any plumbing work you may require. Whether you need an emergency plumber, emergency plumbing services or installation of central heating systems, we have the expertise to deliver top-notch plumbing solutions tailored to your specific needs.
At AB Handyman, we understand that plumbing issues can arise unexpectedly, causing inconvenience and disrupting your daily routine. That is why we offer 24-hour emergency plumbing services, so you can have peace of mind knowing that we are always available to provide prompt and reliable solutions.

Local Plumbers in Luton: Reliable and Affordable Plumbing Solutions
AB Handyman is proud to offer reliable and affordable plumbing solutions to residents and businesses throughout the Luton area. With a team of professional plumbers, we can handle all kinds of plumbing problems, from general plumbing work to more complex issues. Our engineers in Luton are dedicated to providing excellent service and high standards of workmanship, ensuring that our customers receive the best possible care. We offer wide range of plumbing services, including repairs, installations, and maintenance.
Our team is experienced in plumbing and committed to providing reliable services to our local Luton community. At AB Handyman, we believe that high-quality plumbing services should be available at a reasonable price, and we strive to make our services affordable for everyone. Call us today to discuss your plumbing needs, and let us help you find the perfect solution for your home or business. 
Professional Boiler and Radiator Services in Luton: Keep Your Home Warm and Cozy with Our Expert Plumbers
At AB Handyman, we are pleased to offer professional boiler and radiator services in Luton. As a team of expert plumbers, we prioritize the safety and satisfaction of our customers throughout the entire process. Our services include combi boiler service, tanker removal, new boiler installation, and diagnosing the cause of the problem with your heating system. We assist with cistern, plumbing and gas installations, and general heating services.
We understand the importance of a warm and cosy home, so we offer a free quote to all of our clients in Luton and the surrounding areas. Our professional plumbing services cover everything from boiler breakdowns to complete boiler and central heating installations. Plus, we are gas safe registered, so you can trust our workmanship from start to finish.
Our team is dedicated to providing excellent customer and emergency service, and we would highly recommend our services to any homeowner needing heating repairs or installations. Call us today to learn how we can keep your home warm and cosy with our expert plumbers and also with a free quote. Trust in our plumbers to handle all your plumbing needs with expertise.. 
From Tap Repairs to Appliance Installations, We've Got You Covered
AB Handyman plumbers Luton proudly offers comprehensive plumbing and installation services throughout Luton and beyond. Our plumbers are on hand 24 hours a day to help with everything from tap repairs to appliance installations. Whether you need us to fix a leak or install a new shower pump, our team will provide a fantastic service from start to finish. We understand that plumbing issues can cause much fuss, so we aim to sort and tidy things up as quickly and efficiently as possible after the job is done.
In addition to bathroom plumbing, we can also help with kitchen sink repairs, new kitchen installations, boiler, heating, gas and more. If you're dealing with a blocked toilet or low water pressure, get in touch with us, and our plumbers will be there around the clock to help and get your job done. We even offer water softener installation if hard water is causing problems in your home. No matter what you need, you can count on AB Handyman for top-class service.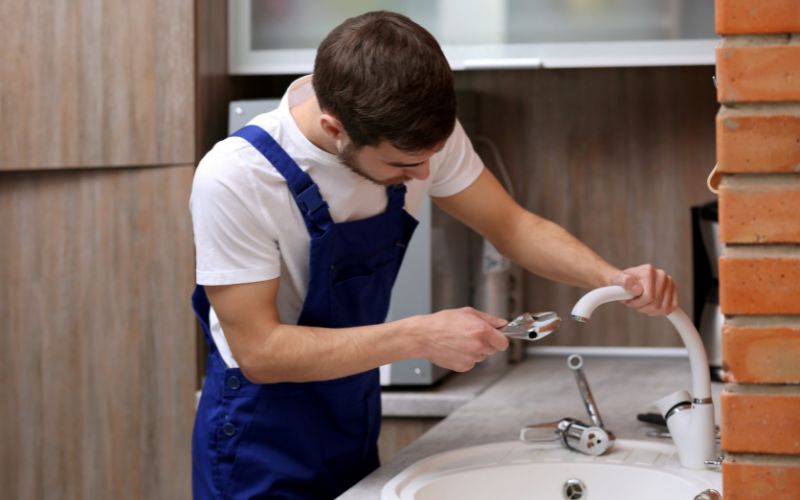 AB Handyman offers a top-notch plumbing service throughout Luton. From tap repairs to appliance installations, we've got you covered. Our team of plumbers is always on hand, 24 hours a day, to sort out any plumbing issues you may have. We can take care of it, whether it's a leak, a blocked toilet, or low water pressure. We offer a fantastic service from start to finish, ensuring everything is tidy when we leave—installing a new kitchen or bathroom? We can help with that, too, from fitting a new kitchen sink to tiling your new bathroom.
Call us any time of the day or night – we're here to help around the clock. Our class service includes fixing a leak, installing a new shower, or installing a new water softener, gas, boiler, heating work. Don't fuss over your bathroom plumbing or worry about a shower pump – get in touch with us, and let us take care of it for you and get the work completed by our plumbers. 
Get In Touch With Our Expert Plumbers
In Luton and London, when the search begins for a trusted and experienced plumber, our dedicated team stands out. Whether it's a 24-7 emergency in the heart of the night or a planned inspection for your rooms, gardens, or heating systems, we're always open and ready. With transparent prices, rapid and fast service, and a team of true professionals, you'll be happy you made that call. For more info, please read further on our site or directly call us at the provided tel number. From fitter tasks to complex plumbing design, we fit the bill, always ready to replace or serve with dedication.
When residents in Luton and St Albans face issues with blocked toilets or cold water troubles, they remember that fateful day just a few days ago when they discovered our top-rated plumbing Luton services. As leading heating plumbers in the region, we pride ourselves on delivering exceptional work, whether it's a minor fix or a major installation. Don't let plumbing problems linger; call our emergency experienced plumber for a prompt response and a transparent quote. Concerned about the cost? Rest assured, our plumbers offer competitive pricing without compromising on the quality of the job or the warmth of your heating.
When it comes to handling any heating or gas related issues, residents know there's only one team to call – our expert plumbers. Whether it's a routine boiler maintenance task or a complex gas job, our dedicated plumber has the skills and experience to ensure your systems run smoothly and safely. With a reputation built on trust and quality workmanship, our plumbers are the first choice for homeowners in the region. Whatever the job, large or small, we're here to serve the St  community with professionalism and efficiency.

Contact Our Plumbing Luton Company: Dependable and Efficient Solutions for All Your Plumbing Needs
AB Handyman Luton plumbers provides dependable and efficient solutions for all your plumbing needs in Luton. Our team of experts is readily available to offer efficient plumbing repairs and emergency plumber Luton provide the needed advice for future plumbing. Customers residing in Luton can call us for quality plumbing services, and we ensure everything is to the highest standard. We take pride in providing value for money for all our customers. With a wealth of experience and knowledge in the plumbing field, we guarantee that every job will be done professionally and to your satisfaction. In addition to our plumbing expertise, we extend our services to include tile fitting, painting, and more. We diligently source the necessary parts to ensure we can deliver the required services efficiently. Our satisfied customers are proof of our excellent work, and we would recommend our services to anyone who needs a plumber and is pleased with our service.
Whenever you need us, we're here for you.